Dio Tribute Album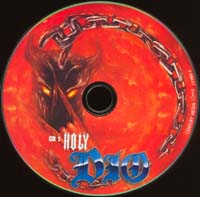 Century Media/SPV/Rock Hard in Germany released a tribute album for Dio on July 12th, 1999 in Europe. The tribute album is titled as "Holy Dio - A Tribute To The Voice Of Metal! and it is a double CD for the price of normal CD. Here's the track listing for the album:
CD 1:
Blind Guardian: Don't Talk To Strangers
Primal Fear: Kill The King
Doro: Egypt (The Chains Are On)
Jag Panzer: Children Of The Sea
Fates Warning: Sign Of The Southern Cross
Catch The Rainbow: Rainbow Eyes
Gamma Ray: Long Live Rock And Roll
Swanö & Tägtgren: Country Girl
Yngwie Malmsteen: Gates Of Babylon

CD 2:
Grave Digger: We Rock
Hammerfall: Man On The Silver Mountain
Holy Mother: Holy Diver
Stratovarius: Kill The King
Axel Rudi Pell: Still I'm Sad
Enola Gay: Heaven And Hell
Steel Prophet: Neon Kings
Solitude Aeturnus: Shame On The Night
Destiny's End: The Last In Line
Angel Dust: Temple Of The King
Originally Iced Earth was going to do The Last In Line on the tribute album, but they decided not to do it.
---
This page is maintained by Tapio Keihänen, E-mail: dio@iki.fi.
The page has been updated on 12.07.1999
URL: http://www.dio.net/news/dio_tribute.html, the front page http://www.dio.net/.